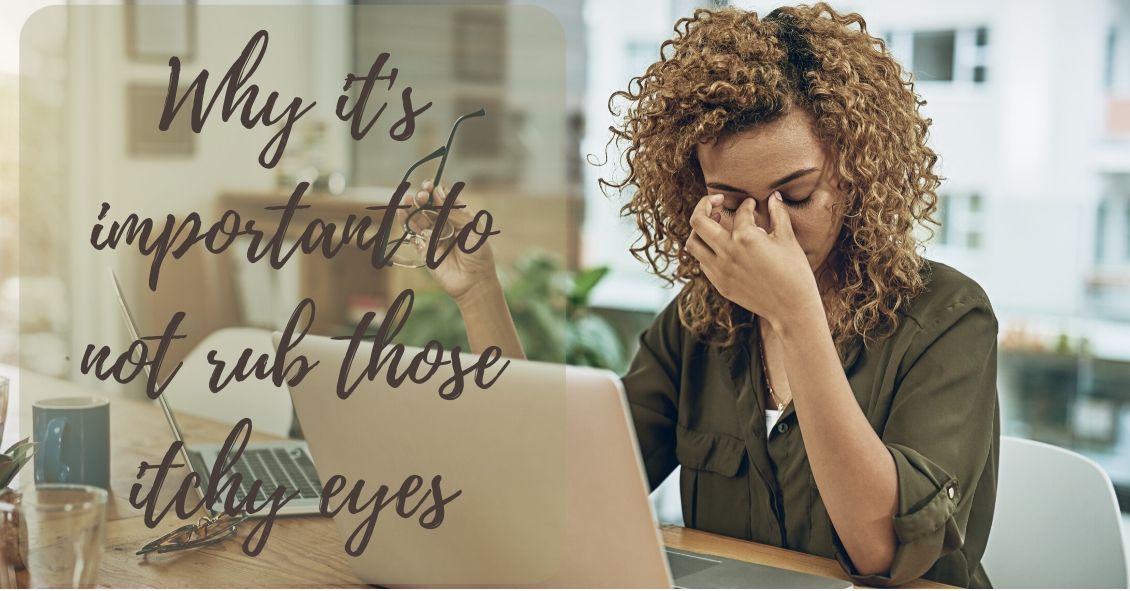 When your eyes feel itchy, it's a natural reaction to want to rub, rub, rub. It temporarily relieves the itching, and frankly feels great when you're doing it. Unknowingly, however, you are likely doing short-term – and in some cases long-term – damage to your eyes. Here are some of the detrimental effects that can result from eye rubbing.
Worsening of ocular allergies: rubbing an eye inflamed from allergies starts a vicious cycle. During the allergic ocular response, a chemical called histamine is released from a cell called a mast cell. It is this release of histamine that starts the red, itchy, watery eyes associated with allergies. Rubbing the eyes releases more histamine, causing the eyes to become more inflamed, perpetuating the cycle.
Risk of increased eye pressure: Putting pressure on the globe of the eye drastically increases intraocular pressure (IOP). While the effect is temporary, prolonged rubbing can increase your risk of developing glaucoma, a potentially blinding eye disease, especially if the IOP spikes high enough.
Risk of retinal detachment: Any trauma to the eye can risk detaching the retina, the paper thin film that lines the back of the eye. Retinal detachment can present with symptoms such as seeing flashes, floaters, or a blacking out of the vision, but other times it can go undetected until it's too late. Rubbing the eye causes unnecessary trauma to the globe, which can rupture the attachment of the retina to the back of the eye.
Keratoconus: More and more research is starting to show that ocular allergies and eye rubbing is a risk factor for developing keratoconus, a disease in which the cornea starts to bow out and form a cone shape. While the exact cause is not known, research suggests that the contant rubbing weakens the collagen bonds that helps the cornea keep its shape, resulting in the abnormal corneal bowing.
Nothing good comes from eye rubbing. If your eyes are itchy, you can try over-the-counter antihistamine drops, cool compresses (which slows histamine release), and allergy medications to stop the itch.
Article contributed by Jonathan Gerard
The content of this blog cannot be reproduced or duplicated without the express written consent of Eye IQ