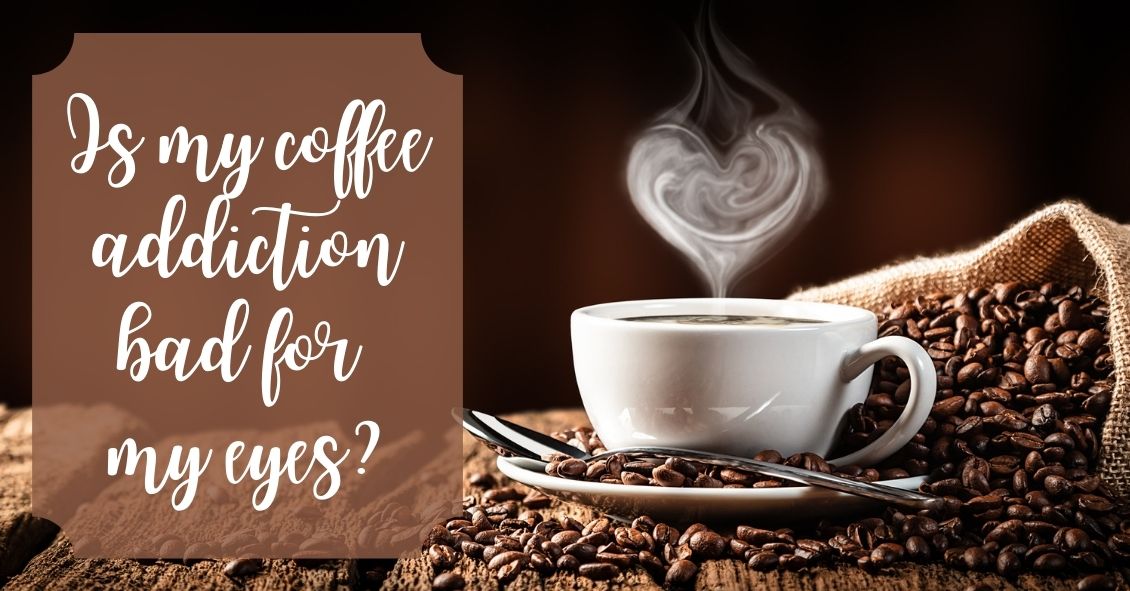 The 2019 National Coffee Drinking Trends report showed that 64 percent of people who participated in the survey said they had drunk coffee the previous day, which is interpreted as daily consumption. This was up from 57 percent in 2016, said the report.
Even though the U.S. population is drinking more coffee than ever, the nation still only ranks 25th overall in per capita consumption. The people of Finland average 3 times as much coffee consumption as people in the U.S.
So what does all this caffeine intake do to our eyes?
The research is rather sparse and the results are mixed.
Here are some major eye topics that have been investigated:
Glaucoma
One study, published in the journal Investigative Ophthalmology and Visual Science, showed that coffee consumption of more than 3 cups per day compared to abstinence from coffee drinking led to an increased risk for a specific type of Glaucoma called Pseudoexfoliation Glaucoma.
Another analysis of several existing studies by Li,M et al demonstrated a tendency to have an increase in eye pressure with caffeine ingestion only for people who were already diagnosed with Glaucoma or Ocular Hypertension, but no effect on people without the disease. A separate study, published by Dove Press, done with the administration of eye drops containing caffeine to 5 volunteers with either Glaucoma or Ocular Hypertension showed that there was no change in the eye pressure with the drops administered 3 times a day over the course of a week.
Summing up the available studies in terms of Glaucoma, the evidence points to maybe a slight increase in Glaucoma risk for people who consume 3 or more cups of coffee a day.
Retinal Disease
A study done at Cornell University showed that an ingredient in coffee called chlorogenic acid (CLA), which is 8 times more concentrated in coffee than caffeine, is a strong antioxidant that may be helpful in warding off degenerative retinal disease like Age Related Macular Degeneration.
The study was done in mice and showed that their retinas did not show oxidative damage when treated with nitric oxide, which creates oxidative stress and free radicals, if they were pretreated with CLA.
Dry Eyes
A study published in the journal Ophthalmology looked at the effect caffeine intake had on the volume of tears on the surface of the eye. In the study, subjects were given capsules with either placebo or caffeine and then had their tear meniscus height measured. The results showed that there was increased tear meniscus height in the participants who were given the caffeine capsules compared to placebo. Increased tear production, which occurred with caffeine, may indicate that coffee consumption might have a beneficial effect on Dry Eye symptoms.
Eyelid Twitching
For years eye doctors have been taught that one of the primary triggers for a feeling of twitching in your eyelid has been too much caffeine ingestion (along with stress, lack of sleep and dry eyes). I have been unable to find anything substantial in the literature to support this teaching. Therefore, I'm going to have to leave this one as maybe, maybe not.
The End Result
Overall, the evidence for the pros and cons of coffee consumption and its effects on your eyes appear to be rather neutral. There are one or two issues that may increase your risk for glaucoma but it also may decrease your risk of macular degeneration or dry eyes.
Since there is no overwhelming positive or negative data, our recommendation is--and this holds for most things--enjoy your coffee in moderation.
Related links
Article contributed by Dr. Brian Wnorowski, M.D.
This blog provides general information and discussion about eye health and related subjects. The words and other content provided on this blog, and in any linked materials, are not intended and should not be construed as medical advice. If the reader or any other person has a medical concern, he or she should consult with an appropriately licensed physician. The content of this blog cannot be reproduced or duplicated without the express written consent of Eye IQ.